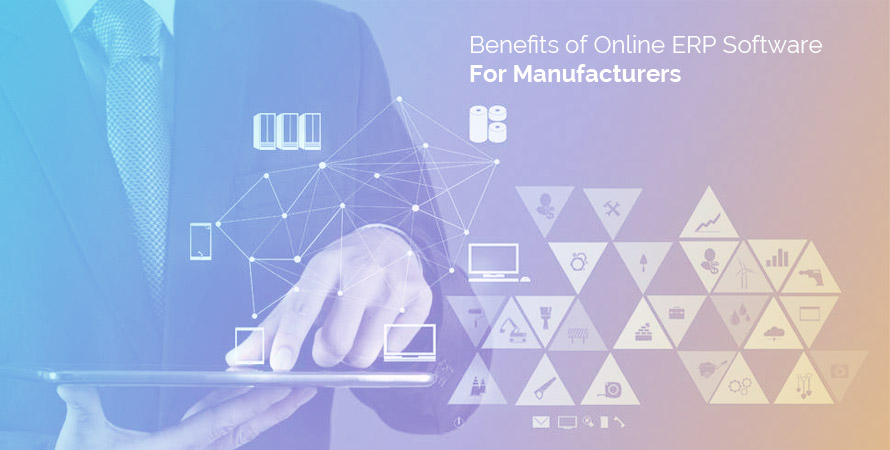 08 Jun

Benefits of Online ERP Software for Manufacturers

In the past few years, the manufacturing companies have become increasingly competitive. Manufacturing companies of all types and sizes must create, build and deliver higher quality products at a fast pace and at the lowest possible cost to gain a significant market share and gain new customers by maintaining the old ones. This can be a big challenge for manufacturing companies because they have to excel continuously in all the processes involved in the production, sales and distribution are truly effective. Online ERP software helps take advantage of advanced features to improve all aspects of their manufacturing processes – from procurement and supply to production, storage, quality testing and delivery. Therefore, ERP for manufacturing can improve efficiency, reduce costs and increase sales and profitability. In addition, an ERP solution for manufacturing can be a gateway to the solution of their manufacturing limitations, such as planning for poor production, surplus labor and more.

Here are Some Important Benefits of ERP Software for Manufacturers:

Streamline Processes

ERP software automates all business transactions, providing accurate information in real-time. ERP increases efficiency and productivity by helping users navigate through the complex process, preventing the re-introduction of data and enhancing functions such as production, order, and delivery. ERP systems today offer integration capabilities, which facilitates the centralization of information so that all key employees who need access to data can easily get from one place.

Cost-Effective

With an accurate source of real-time information, ERP software will reduce administrative and operational costs. Manufacturers are allowed to proactively manage operations, avoid interruptions and delays and help users make decisions faster. By increasing worker productivity, the ERP solution minimizes overtime and related labor costs. Improved accuracy and lower error rates on production floors.

Flexibility

Modern ERP software systems are flexible. They are not a unique proposal but can be adapted to the specific needs of a company. ERP systems also have the ability to adapt to the changing needs of a growing business.

Better TeamWork and Communication

ERP systems allow companies to share important data related to production, not only with internal employees but also to external parties such as suppliers, distributors and even end customers. when the lack of inventory suppliers, you can use the ERP software to communicate the requirement of the sales team. The order information provided by the sales team can be communicated to the operating team and additional products can be produced. Therefore, ERP for the manufacturing process allows department heads to effectively manage external party data in order to strengthen decision-making efforts.